WALTON COUNTY FIREFIGHTERS KNOCK DOWN FIRE ENGULFING A HOME IN PONCE DE LEON
Posted on August 1, 2022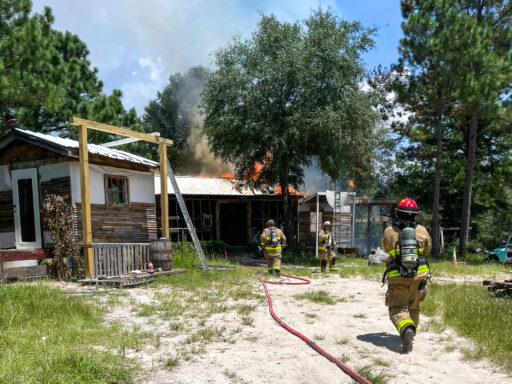 PONCE DE LEON, FL — Walton County Fire Rescue firefighters rush to a Ponce de Leon home after receiving a call about a structure fire with children possibly inside.
At 12:02 PM on Monday, August 1, 2022, Walton County Fire Rescue was dispatched to a home on K and M Farm Road following a 911 call from a neighbor reporting a nearby home on fire. The caller stated he knew they had a dog and three small children, all of whom may still be inside the home.
When Walton County Fire Rescue arrived on scene, they found flames engulfing the right side of a multi-level house. Firefighters conducted an initial search for anyone who may still be inside the home. Fortunately, no one was found, and the neighbor was able to get the dog out of the home safely. After firefighters knocked down the flames, a secondary search was conducted on the damaged home to verify no one was inside at the time of the fire. Family members later located the children at a friend's house down the road.
Walton County Fire Rescue had the flames extinguished in only 20 minutes, keeping the fire from spreading to the rest of the home.
"Getting a call like this is never easy," says Fire Chief Tracey Vause. "Knowing children could be trapped inside a burning home is one of the scariest thoughts as a firefighter. Fortunately, this crew worked quickly and thoroughly, ensuring everyone was safe and saving the home from being completely destroyed."
The fire is believed to have been caused by an electrical issue inside the residence. American Red Cross is being contacted to assist the family of the damaged home.